It's such a privilege to be able to work with so many fantastic crafts men and women that we really wanted to 'tip our hats' to them on this site.
We'll be regularly profiling our makers below but if you're just looking to see if we have anything in stock from one of your own favourites, you'll also find a comprehensive list on this page of all those with whom we currently work.
---
Profile: Ralph Williams
Ralph Williams has devoted the past twenty-five years to capturing the beauty of the wildlife around him through the natural medium of wood. His work in the Department of Ornithology at the British Museum has allowed him successfully to combine a free artistic sense of his chief subject, bird life, with a sound working knowledge of their physiology and a dedication to the smallest detail. This more impressionistic approach is often inspired by the natural forms of the wood with which he works: a particular grain or knot; a forked branch; even the lines of a splintered piece.
Ralph's organic approach to his work extends to sourcing and seasoning his own materials. Locally he is known to be interested in any tree that is about to be lopped or felled, and has acquired stocks of many unusual varieties of wood such as Sumach and Mulberry, in addition to favourites such as Walnut, Laburnum and Cherry.
Ralph has exhibited his work at a number of shows in addition to more major exhibitions at the annual British Trust for Ornithology conference. For a number of years he has also provided the trophies for a variety of BBC Wildlife competitions.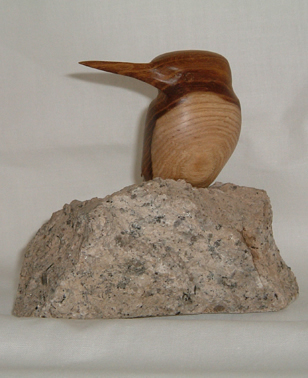 ---
Crafts men and women currently making for Burford Woodcraft
Click on a maker's name below to search for their work in our shop.
Don't forget to also have a look in our focus gallery for those extra special pieces.